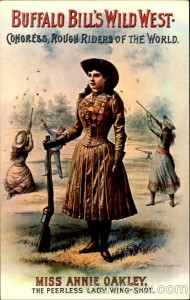 For the most accurate information online about Annie Oakley, please visit The Annie Oakley Center Foundation's website, maintained in conjunction with The Garst Museum located in Annie's hometown of Greenville, OH.
To watch the PBS American Experience special on Annie Oakley, scroll down for the eight part film.
The Annie Oakley Center Foundation
See Annie in action in this rare footage provided by the Library of Congress:
PBS American Experience presents Annie Oakley
Chapter 1 of 8
Chapter 2 of 8
Chapter 3 of 8
 Chapter 4 of 8
 Chapter 5 of 8
 Chapter 6 of 8
Chapter 7 of 8
Chapter 8 0f 8
Watch Annie Oakley on PBS. See more from American Experience.