Posted on
Feb 6, 2014
in
Blog
|
0 comments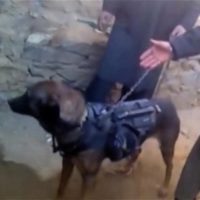 According to Afghanistan correspondent Rob Crilly of The Telegraph, the  Taliban's cultural arm, al-Emara, has released a video of what they claim is a dog of war captured in Afghanistan.
"This dog was named after a colonel," said one of the fighters. "It had a torch on it and its neck wore a GPS."

Dogs are used extensively by coalition forces in Afghanistan. Some work sniffing out IEDs, weapons or drugs while others have a search and rescue role.

It is a dangerous job.
…
A spokesman for the Nato-led International Security Assistance force in Kabul said: "We are aware of the video. However, we have no operational reporting to confirm it."

Four years ago, an Australian bomb-sniffing dog was lost in Afghanistan and then adopted by a Taliban leader who tried to sell her back.
Read the entire article here: The Taliban claim to have captured a US dog of war