Posted on
Nov 9, 2013
in
Blog
|
0 comments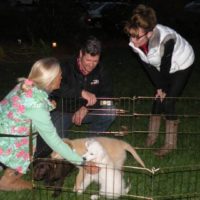 Gov. Sarah Palin and her husband, Todd, recently visited with representatives of the Puppy Jake Foundation. The foundation website states, "The Puppy Jake Foundation is a 501(c)(3), nonprofit organization dedicated to helping military veterans through the assistance of well bred and highly trained service dogs. Such dogs are expensive, but their costs pale in comparison to the cost of what the veteran, the member of the US Armed Services, has given for our individual freedom and the freedom for our country."
Via Gov. Palin's Facebook page, posted on November 8, 2013:
I'm looking forward to being back in Iowa this weekend! Tonight we'll visit with supporters of Iowa's "Puppy Jake Foundation" and highlight the great work they do to support our returning service men and women in a creative way. This group trains dogs for eventual adoption by those who have fought so hard for our freedom and suffer from ailments, including PTSD, upon their return. Having spent some time with Puppy Jake himself (see photo from the 2011 Iowa State Fair with trainer Becky Beach and her dog), I can attest to the warmth, companionship, and smiles these dogs bring. The Foundation's mission explains that the hard efforts to train these beautiful service dogs pale in comparison to the cost paid by members of our U.S. Armed Services who've given enormously for our freedom. Please visit their website to find out more about our vets' needs and what great groups like the Puppy Jake Foundation are doing to help!
Later, she posted again:
Todd and I had a great time visiting with friends — furry and otherwise — in Des Moines tonight supporting the Puppy Jake Foundation. Thanks to our hosts Becky Beach and the entire Puppy Jake team for allowing us to highlight the positive work they're doing with these service dogs to support our brave soldiers returning home. It was great to visit with Sen. Mike Lee there tonight, too!
Now, hopefully Todd's been won over and will agree it's time to add another set of paws to the family! Please "like" the Puppy Jake Foundation on Facebook and visit their website to find out how you can help our vets. (And put in a good word to Todd for me… he's the one who's always said, "The more, the merrier!")
Puppy Jake Foundation Website
Puppy Jake Foundation Facebook Page