Posted on
Sep 11, 2012
in
Blog
|
0 comments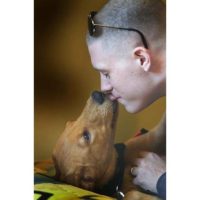 From "Lejeune Marine receives service dog to help with PTSD" at JDNews.com:
Koda may look like any other puppy in the park, but this little guy is on the job.

A 5-month-old fox red Labrador retriever, Koda, from the Sioux word for "friend," is a service dog, trained to help Marine Lance Cpl. Michael Moreland cope with Post Traumatic Stress Disorder.

Moreland, a 20-year-old New Yorker, "21 on the 21st" of January, declined to talk about his wartime experiences; but said he needed and was appreciative of his service dog.

"It's been life changing," he said. Moreland recently owned a German Shepard that was hit and killed by a car. Other than that, he said he had never owned a dog.

But it was love at first sight when he saw Koda for the first time this week.

"Before Koda, I couldn't be around people," Moreland said. "I wouldn't buy food and when I ran out of money for take out I would go to Walmart at 2 a.m. just to avoid people."

…

Koda will help Moreland by providing a social buffer. The dog will assist him with navigating crowds and provide exit strategies if Moreland feels like he needs to get away from a situation, said trainer Cheri Campbell with Guardian Angel Service Dogs., Inc., a nonprofit organization that provides education and training about service dogs.

Service dogs can help people with diabetes, hypoglycemia and traumatic brain injury, said Sue Kindred, the organization's executive director.
Read more at: http://www.jdnews.com/articles/koda-99256-labrador-fox.html
Image credit: Chuck Beckley/The Daily News