Posted on
Aug 22, 2012
in
Blog
|
0 comments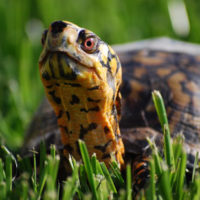 Tracey Peake of NCSU News Services reports on the turtle rescue efforts at North Carolina State University:
When it comes to making wildlife rescue easy, turtles have two main advantages over other species: they're slow, and they're stackable.

"Turtles are very tough animals, and it's due in large part to their slow metabolism," says Dr. Greg Lewbart, aquatic animal specialist and advisor to NC State's Turtle Rescue Team (TRT). "Freshwater turtles can survive without food for a month – some sea turtles can do without for up to three months.  When they're injured, a slow metabolism means that they don't need medication as often. Plus, they're quiet animals and don't need a lot of space for recovery."

That's where the stackable part comes in. Turtle team headquarters is full of the plastic bins that allow patients to rest and rehabilitate. Since the team is on track to see more than 300 freshwater turtles this year, space is at a premium.  Metal racks originally designed for kitchen trays allow the bins to be "stacked" and ensure that the team has room for all patients to recover in peace.

Lewbart, with the help of wildlife rehabilitator Linda Henis,  founded the turtle team in 1996, and estimates that it's treated about 2,500 snappers, sliders, box, painted, mud, musk, and river cooter turtles since then. The team is an all-volunteer effort, led by two co-presidents who coordinate round-the-clock schedules for four teams.  While most of the volunteers come from NC State's College of Veterinary Medicine, you don't have to be a vet student to help out.
Read more of Heroes For The Half-Shelled at NCSU. To see how you can assist efforts, visit the NC State Turtle Rescue Team site.
More in the video below:

Box Turtle image from NCSU Turtle Rescue Team site.