Posted on
Aug 20, 2012
in
AZ, CA, Equine Rescue, FL, IA, IL, MD, NC, OK, OR, SC, TN, TX, VA
|
0 comments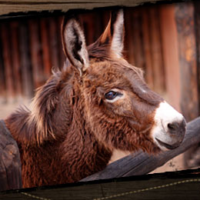 From its modest roots as a backyard hobby, the Peaceful Valley Donkey Rescue has grown into the largest in the country. We have rescued donkeys from dire situations in all corners of the United States.
Wild burros under threat of being shot and displaced by a loss of habitat are given a safe haven. Abused and neglected domestic donkeys that have lost their faith in humans are given a chance to heal, physically and emotionally.
Animals whose ailments exceed their financial worth are treated to allow them tolive out their lives with dignity and without pain and misery.
At the Peaceful Valley Donkey Rescue, we go beyond simply caring for our donkeys. We provide resources and training to donkey owners around the world. We hold clinics, seminars and perform fieldwork in areas otherwise neglected.
Our original mission was to provide a safe and loving environment for abused, neglected and unwanted donkeys. We now know that providing a sanctuary is not enough. We tirelessly work to educate the public about the nature, history and worth of these wonderful animals. In doing so, we improve the plight of the American donkey.
Peaceful Valley Donkey Rescue National Operations Center
PO Box 216 Miles, TX 76861
Click for info on multiple facility locations
(325) 468-4123