Posted on
Jul 20, 2012
in
Blog
|
0 comments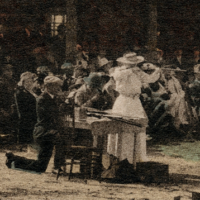 With all due respect to Ohio, we think Annie Oakley liked calling North Carolina home too. Whether it was passing through, working, or vacationing, she spent a considerable amount of time in "The Old North State."
In a letter from Greensboro, NC, she said, "This is a fine up to date city. The best kept I have ever seen."
Here are some interesting NC connections:
October 1901, Charlotte, NC – Annie performs with Buffalo Bill in "The Queen City" for 30,000 spectators.
October 29, 1901, Linwood, NC – Annie is riding in the second train of Buffalo Bill's Wild West caravan after performing in Charlotte. The train is hit head on by a waiting train that didn't realize there were two trains and prematurely pulled back onto the track after the first passed. Annie receives severe injuries and takes months to recuperate. Read the whole story in an Our State magazine article and learn how the town of Linwood jumped in to help the traveling group:
Annie Oakley, who was asleep when the accident spilled her car into a swamp on the north side of the track, was thrown from her bed and suffered extensive injuries. Early newspaper reports announced she was dead.

In a biography of Annie Oakley, Isabelle S. Sayers wrote that Oakley's husband, Frank Butler, carried his injured wife to a railcar that workers set up as a temporary hospital. She went next to a hospital in Winston-Salem, where she received treatment for her injuries, including paralysis. Only after several surgeries and months of convalescence in a New York hospital did Oakley resume performing.
1908, 1916-1922, Pinehurst, NC – Annie operates a gun club at the Carolina Hotel, a resort still standing today. From the Pinehurst Resort site:
Annie Oakley, sharp-shooter and star of the Buffalo Bill Wild West Show, came to Pinehurst in 1916 with her

husband, Frank Butler. Annie was in charge of the Pinehurst Gun Club, and gave shooting exhibitions at the Carolina hotel twice a week. Between 1916 and 1920 she instructed up to 125,000 men and women in the art of marksmanship.
October 10, 1923, Greensboro, NC – Annie writes a letter from a suite located at 357 N. Elm St. She and husband Frank  Butler had just moved there from a stay at the O.Henry Hotel in Greensboro, which still stands. The N. Elm St. address does not exist today, and the letter is currently on the eBay auction block for $85k. In her letter (transcribed by History Direct Auctions), Annie tells the recipient, a reporter with the Saturday Evening Post:
My Dear Miss Tildesley, I was pleased to see   the sweet letter. We left Cambridge just two weeks ago. And stopped off in   Balto. to see Dr. Baer. He said there was an improvement in my foot though it   had been very slow. But for me to fight on and he was sure I would win out in   time. So we both feel incouraged. I can walk much better than when you seen me.   We have just left the Hotel and taken A suite here. We have A pretty living   room, furnished in wicker with pretty colors. A wicker table with plate glass   top so we can make coffee. Tea. Toast. and even boil eggs if we like. A french   door opens on A private varanda with pretty flowers. It faces the East. Our   sleeping room faces the East and has a fine large window on the South. So we   will get the sun about all day. 2 nice hot water radiators. And a fire place   with gass logs. Furnished in fine old real mahogany but all finely polished. And   everything in great taste. We have to share our bath with the Lady that owns the   house. But the many other advantages more than make up for the loss of A   strictly private bath. We will take our time in looking up A Suitable place to   build in the early spring. This is A fine up to date City. The best kept I have   ever seen. So if I live and you ever come south just stop off for a little   visit. The latch string will be out. Our address for the winter will be here at   357 North Elm Street, Greensboro, North Carolina.
 1924, Blowing Rock, NC – Annie operates a shooting range at the Mayview Manor which closed in 1966, and unfortunately, was demolished in 1978. From WNC magazine:
Touted by locals as the "Queen of Blowing Rock Hotels," Mayview drew some notable names….But its real claim to

fame came earlier: In 1924, Mayview started a gun club directed by sharp-shooting legend Annie Oakley, who came out of retirement for a last hurrah. One account tells of a 63-year-old Oakley in fine form as she blew away 98 of 100 clay pigeons.
Date Unknown, Green Park Inn, Blowing Rock, NC – Annie is a guest. This inn operated from 1891 and continues to this day, after undergoing extensive renovations beginning in 2010.
Sadly, Annie and Frank were not able to live in their "second home state" too long after retiring, as Annie's health began to decline in 1925, due to pernicious anemia, the body's inability to absorb vitamin B12. She retreated to family in her hometown of Greenville, OH, and died at the age of sixty-six on November 3, 1926. Frank died 18 days later, many say due to the fact he stopped eating in grief.
North Carolina hasn't forgotten Annie. There are festivals in her honor and most recently, an exhibit at the state's history museum in Raleigh. In describing Pinehurst, Frank once wrote, "Haven't seen any place we like better…." It's not likely North Carolina has ever seen a better sharpshooter than Annie Oakley either.