Posted on
Jul 3, 2012
in
Uncategorized
|
0 comments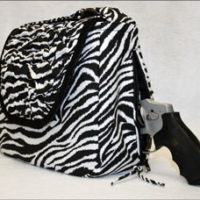 Florida's women are basking in the sun and increasingly packing heat another way too. My Fox Tampa Bay reports "…more than 70,000 women between the ages of 51 and 65 got their concealed weapons permits…in May 2012 alone."
Annie Oakley would have been proud. She promoted women's shooting and trained quite a few herself, often in Blowing Rock, North Carolina at a resort called Mayview Manor.
More info in video below. Gotta love the old Annie Oakley TV show clips at the beginning!
From My Fox Tampa Bay:
Debbie Torrence is a grandma, seamstress, and a gun owner.

"Once I learned how to shoot my gun, I got over my fear of a gun," she explained.

She's part of a growing number of women who are fired up about owning a gun.

…

"I was really, really afraid of the gun.  I didn't even want to touch it," said Ellen Edmondson, a midwife who decided to buy a gun for protection after her husband passed away.

She and many other women are attending classes like the one hosted by the Wyoming Antelope Club, which teaches everything you need to know to be a responsible gun owner.

"Right now there are over 35,000 carry permits just in Pinellas County," explained one of the trainers.

"We have a right to bear arms in this country and if I don't even know how to shoot a gun, then I'm really not exercising my rights," said Ellen.

…

Even the men admit that the women are usually better shooters, which has more women arming themselves with both the knowledge and the weapons to protect themselves.

To check out Debbie Torrence's purses she makes for concealed weapons, visit HERE.