Posted on
Jun 25, 2012
in
Blog
|
0 comments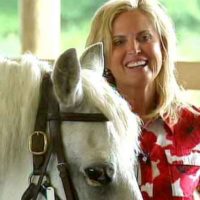 It doesn't matter which political party you side with when it comes to this. When one TV host ridiculed the fact that presidential candidate Mitt Romney's wife, Ann, uses horse therapy in dealing with her Multiple Sclerosis, another host (one with MS himself) took him to task:
Recent remarks made by MSNBC host Lawrence O'Donnell on his show, "The Last Word," are garnering criticism by some after he used Ann Romney's use of dressage equine therapy to combat the effects of her multiple sclerosis as campaign fodder. The wife of the GOP presidential nominee Mitt Romney reportedly got increasingly involved with horses following her diagnosis; O'Donnell called the "sport" a method that "wildly rich people" use to "deal with this difficult personal health problem."

Fox News and Fox Business host Neil Cavuto is no stranger to the disease, as he himself lives with multiple sclerosis. On Wednesday's 'Your World,' he spoke out against O'Donnell's remarks, saying they were factually incorrect and he couldn't remain silent.

…

Cavuto continued by saying he wanted viewers to understand that he and Ann don't need sympathy, just to have the facts laid out. "It's called hippo-therapy," he said, referring to dressage, and at its core, the method refers to the use of horseback riding as a treatment for many medical conditions. Many doctors believe it helps relieve some of the symptoms of multiple sclerosis.

Neurology Care, a widely renowned medical handbook, said the following of horseback riding as treatment for the disease: "…some people treated with riding therapy exhibited improvement in balance, emotional functioning, pain and muscle stiffness."
You can read the whole report HERE and watch the videos below for the entire clips.
What organizations do you know that provide equestrian-based physical therapy? One such place is the non-profit group Helping Horse. You can visit them HERE for more info.

Fox News and Fox Business host Neil Cavuto addresses the benefits of horse therapy.

MSNBC host Lawrence O'Donnell on his show, "The Last Word," can be seen mocking the horse therapy around the 50 second mark.