Posted on
Mar 31, 2012
in
Blog
|
0 comments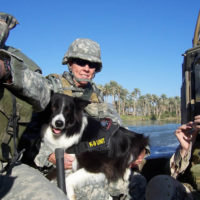 We met a real hero today at the NC State College of Veterinary Medicine open house.
Sage is a 13 yr old exuberant border collie that has seen more, done more, and survived more than most of us ever will. And she isn't finished yet. Arriving from the UK as a puppy, Sage has become a true American hero. Her missions have included 9/11 recovery, Katrina search and rescue, and months in Iraq looking for missing soldiers.
By her side through it all has been Diane Whetsel, a specialist in security threats and K-9 training. When Sage ended up having to fight two bouts of cancer due to all the destruction contamination she encountered, Diane was there too. Unfortunately, the country who called on Sage in the past couldn't be bothered with the expense and time needed to help her now.
Does this sound unbelievable? Yeah, it does. But according to The Sage Foundation for Dogs Who Serve, it's the norm. Thousands of dogs serve in wars, police work, crime prevention, and rescue efforts, only to be abandoned when injured, sick or too old. If not adopted out, they face being put to sleep.
Working in tandem with generous vets, adoption agencies, and ordinary citizens, The Sage Foundation for Dogs Who Serve is working to change how service dogs are cared for and how they spend their retirement years. This is where Sage comes in to save the day again. Whether it's visiting cancer centers for children or showing up to exhibit her skills at events like today, Sage is bringing attention to very real needs that she and her fellow canine comrades have.
Scroll down to read the foundation's brochure by clicking on the PDF image, watch the video tribute to Sage produced by the American Humane Association, and visit the foundation's website.
After all that, ask yourself how you can help. The foundation needs leads on other K-9 dogs, discounted/free vet services, tax-deductible contributions, info on adoption resources, and volunteered media services (photography, printing, video).
We're certain Annie Oakley and her dog, Dave, would have been amazed and supportive of Sage and her namesake foundation.
The Sage Foundation for Dogs Who Serve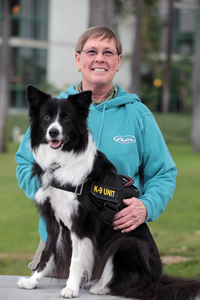 The Sage Foundation for Dogs Who Serve Brochure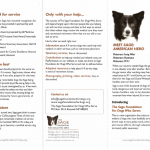 UPDATE from The Sage Foundation and Diane:
On August 13, 2012 @ about 1225 hours, I gave K-9   Sage Her last command. The command was to travel on to the rainbow bridge. I told her that I couldn't go with her on this trip, that this trip she would have to go without me. She understood.

Before she left we had a short game of frisbee that she enjoyed. Then Kathy and some friends blew up about ten   balloons. As soon as she saw them she was off! She popped all of them in record time but then her back legs began to fail her. We had placed the catheter in her leg earlier that morning so that it would be an easy transition for her. After   the balloon popping was done I gave her the permission to go and in doing so I was able to fulfill my promise to her that she would never suffer or be in pain.

Sage is my hero. I miss her terribly. Her spirit of a lifetime of service will live on through the Sage Foundation For Dogs Who Serve.

Diane
RIP Sage