Posted on
Mar 30, 2012
in
Blog
|
0 comments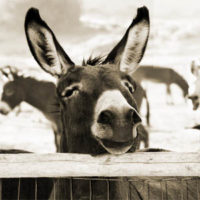 Blame it on the drought or economy or plain old irresponsibility; it doesn't change the fact that hundreds of donkeys are wandering the countryside, lost and confused. Rescue agencies are trying to help, but there's so many. Where does a homeless, out of work donkey go? (Scroll to bottom for how you can help.)
From CBS News:
(AP) With pastures withered from a lingering drought, farmers in Texas and northwest Louisiana have abandoned donkeys by the hundreds.

The nation's biggest donkey rescue group says that since March 2011, it has taken in nearly 800 donkeys abandoned in Texas, where ranchers used the animals to guard their herds. Many of the cattle and goats have been sold, largely because of the drought and the nation's economic slump. That put the donkeys out of a job.

Mark Meyers is executive director of Peaceful Valley Donkey Rescue, the largest such group in the country. He says the drought that began in late 2010 is over now, but the flood of donkeys is continuing. He says he has taken in 600 last year and 172 so far this year.
From The Inquisitr:
(MSNBC) As a result of the drought that started in 2010, the increasing number of  abandoned donkeys being seen roaming Texas is being attributed to the costly  price of hay. Mark Meyers, executive director of Peaceful Valley Donkey Rescue,  said that it's becoming too expensive for farmers to keep the donkeys.

"Last week I spent two days on the road and got 20 donkeys each day," Meyers  told the Associated Press. "Hay prices still haven't come down. And what little  grass is growing, people are going to save it for the animals that are going to  make them money."

As the impact of the drought is still being felt, the market for donkeys in  the region has dried up to the point that some auction houses will no longer  take them."The last ones we tried to sell, they brought the donkeys back to us.  They tried to get a $5 bid for both of them and couldn't get a $5 bid," Deputy  Bill Pentecost told the Associated Press last month.
From Sify News:
In the north Louisiana town of Athens, Keith Gantt, who rounds up loose livestock for the Claiborne Parish Sheriff's Office, says he has dozens of donkeys that he can't give away. Some he's had for two years.

"People just turn 'em out on the highway. The sheriff's department makes me go catch them and then I get stuck with them," he said.

…

The drought, the economy and the high price of hay have forced ranchers across the state to sell off their livestock. Meyers said he's been paying $290 to $350 a ton for hay, compared to a top price of $90 in normal times, and must send as far as Montana and Minnesota to get it. Even if the weather allows a crop this year, the price isn't likely to go down immediately, he said.

People often sneak donkeys onto somebody else's land, he said. "They'll drive a couple counties over, look for a place where there's a bad part on a fence and kick them onto somebody else's property. I get a call at least once a week from somebody saying, 'I woke up and found donkeys on my property.'"

Texas ranchers use female donkeys to guard remote herds of livestock, said Kathy Dean, CEO and founder of Longhopes Donkey Shelter in Bennett, Colo. They're docile, friendly, and don't eat like a horse, she said.

However, the animals are instinctively hostile to dogs and their cousins: wolves and coyotes. "They will bray, bear their teeth, run and chase, and attempt to bite and kick an intruder," according to a Colorado State University fact sheet. In 1989, it said, 1,000 to 1,800 of 11,000 Texas sheep and goat producers used guard donkeys.
Can you adopt, sponsor, or donate? Organizations below:
Peaceful Valley Donkey Rescue
Longhopes Donkey Shelter
Turning Pointe Donkey Rescue