Posted on
Mar 29, 2012
in
Blog
|
0 comments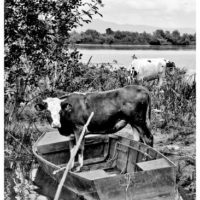 In an interesting case of seek and find, scientists from the UK, France, and Germany have come to the conclusion that today's domesticated cows are linked to a single herd of yesterday's wild ox.
From wired.com:
A team of geneticists from the National Museum of Natural History in France, the University of Mainz in Germany, and UCL in the UK excavated the bones of domestic cattle on archaeological sites in Iran, and then compared those to modern cows. They looked at how differences in DNA sequences could have arisen under different population history scenarios, modeled in computer simulations.

The team found that the differences that show up between the two populations could only have arisen if a relatively small number of animals — approximately 80 — had been domesticated from a now-extinct species of wild ox, known as aurochs, which roamed across Europe and Asia. Those cattle were then bred into the 1.4 billion cattle estimated by the UN to exist in mid-2011.

The process of collecting the data was tricky. Ruth Bollongino, lead author of the study, said in a press release: "Getting reliable DNA sequences from remains found in cold environments is routine. That is why mammoths were one of the first extinct species to have their DNA read. But getting reliable DNA from bones found in hot regions is much more difficult because temperature is so critical for DNA survival. This meant we had to be extremely careful that we did not end up reading contaminating DNA sequences from living, or only recently dead cattle."
Read entire article HERE.