Posted on
Mar 29, 2012
in
Uncategorized
|
0 comments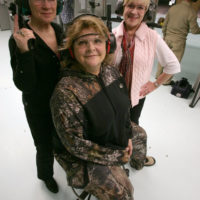 You have a couple of more days to head down (or up) to the Alaska Department of Fish and Game's shooting range in Fairbanks to compete in a fun challenge. Waiting for you might be three grandmas.
From the Fairbanks Daily News-Miner:
John Wyman, project director at the department's range, said the challenge was  created to spotlight the facility and encourage gun safety.

Maki, Phyllis  Trickey and Wynola Possenti are the grandmas behind the challenge. Wyman said  they are great spokeswomen for the challenge because they are safe shooters.  They invite friends to the range, are active outdoors and are successful  hunters, he said.

"They are really good ambassadors," he said. "We  thought they would be the perfect spokes-ladies."

…

Trickey said the range is important to her and her family. Some of her  grandchildren have taken courses in gun safety, and one attended the range's  conservation camp in the summer. She started going to the range herself after  taking a gun safety course, which helped her confidence in shooting, she  said.

"I can't believe how many people still don't know about the range  here," she said.

The actual challenge is two-fold, Wyman explained. Part  of it is just getting people more familiar with the range and more involved in  its safety courses so they can do more things outdoors comfortably.

The  course of fire is the challenging part. Three targets test prowess in hunting,  pistol marksmanship and rifle shooting. Top scorers are kept in the records for  the grand finale.

On Sunday, the top 10 shooters, plus a few more, will  be invited to the final shoot-off at 4 p.m. The grand prize winner will receive  a brand new Ruger .22 LR pistol from Frontier Outfitters, a $50 gift certificate  from Papa John's Pizza and an all-summer range pass to the shooting range.
Read the entrant details and the rest of the article HERE. Watch their popular commercial below.