Posted on
Mar 28, 2012
in
Uncategorized
|
0 comments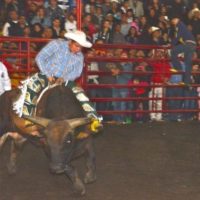 When you hear someone mention New York's Bronx Borough, the first thing that comes to mind is a rodeo…right? If not, maybe it will in the future. This past weekend, a Latino Rodeo was held in the old Kingsbridge Armory, and according to attenders, it was a tremendous success.
From Foxnews Latino:
Zamora Entertainment, one of the largest Latino promoters in the country,  decided it [Kingsbridge Armory] would be worth fixing up and holding an event there for the Latino  community.

So they did, throwing a hybrid Mexican rodeo, concert, lucha libre event that  supposedly attracted 3,000 plus to this huge hollow armory in the Bronx.

The Bronx, as some might not know, is now 54 percent Latino. Mexicans, now  the third largest Latino group in New York City, are projected to surpass Puerto  Ricans and Dominicans, respectively, as the largest group by 2023, according to  the U.S. Census.

And come they did. In their cowboy hats and boots, hundreds shelled out between $50 and $60 for access to something they may have missed culturally  while making their home in New York City.
Read the entire article and see more pictures HERE.
You can see some of the fun in the video below: