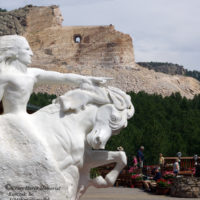 Bigger than Mount Rushmore and as of right now, 65 years in the making, the Crazy Horse monument is slowly coming along in South Dakota. No one involved will predict the finish date, but it's obvious they won't quit till it's done.
From the New York Times:
As he started the Crazy Horse monument in 1947, short on money, manpower and the credulity of just about anyone who heard his plans, Korczak Ziolkowski, a sculptor from Connecticut, promised the tribal leaders who had recruited him and the local residents who scorned him that he was dedicating his life to the effort.

But he underestimated the scale of the undertaking. His promise, it turned out, was a multigenerational commitment.

The sprawling country clan Mr. Ziolkowski reared at the base of the mountain has spent the 30 years since his death honoring his final plea to continue the effort, to which he supposedly added, "But go slowly, so you do it right."

Now led by his 85-year-old widow, Ruth, with the help of their 10 children and, more recently, their grandchildren, this eccentric family effort has plodded forward through doubts and controversy at a deliberate pace more in keeping with the age of the pyramids than the age of Twitter.
The project hasn't been without controversy. Critical of the money raised in support of the memorial, some people complain that too much has been spent on something that is taking too long. The Ziolkowski family isn't deterred and continues to work on fulfilling their patriarch's promise to Lakota Chief Henry Standing Bear.
From Indian Country Today Media Network:
All this money has been the source of much criticism.  There have been  complaints that the Ziolkowski family has made millions of dollars from a  project that carries the name and imagined likeness of Crazy Horse, while much  of the surrounding tribes are living in abject poverty and unemployment.  The family points out that the plans for the completed monument include a call for creating a university for American Indians on the property.  The  Crazy Horse Memorial Foundation already has programs for American Indian  students and has given $1.5 million in scholarships.
More pictures and video can be seen at the official Crazy Horse memorial site HERE.
A short documentary made by Red Wing Shoe Company, a sponsor of the monument's work, explains more about the project's mission: