Posted on
Mar 25, 2012
in
Uncategorized
|
0 comments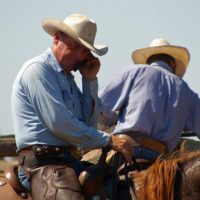 Keeping up with technological advances is all in a day's work for today's cowboys and cowgirls.
From the Orlando Sentinel:
Osceola, FL – A whip cracks in the air as a few dozen cattle mill about a pasture south of St. Cloud. Specially bred cattle dogs bark at the animals' hooves, and a trio of cowboys on horseback circles the herd.

It could pass for a tableau out of Osceola County's pioneer days — that is, until a chirp comes from a cowboy's shirt pocket. He takes out a smartphone and starts chatting, surrounded by lowing bovines.

This is the modern cattle business, where the long-established local ranching culture meets a new generation of tech- and science-savvy ranchers.

Ricky Booth, 34, is a member of the pioneering Partin family, which has been in Osceola since the mid-1800s. With his spurs and battered cowboy hat, he looks the part of an old-timer. But he also has a degree from the University of Florida in animal sciences and an interest in the latest agricultural techniques and technology. He keeps up with beef and corn prices on the Chicago Board of Trade with a smartphone app.

That smartphone also holds information about calving and artificial breeding. Booth and other ranchers communicate with feed suppliers and veterinarians by text message and link up with buyers over the Internet.

"There's a huge business side to this," Booth says. "We're not a bunch of rednecks or hillbillies or whatever derogatory term you want to use, out here whipping cows and yahooin' and yeehawin'.

"Lots of guys are cowboys," he continues. "Only a few are cattlemen."
Read entire article HERE.
From author Tamara Hillman in Cowboys & Cell Phones:
Most don't chew tabaccy, or learn quite how to spit, but he can use that cell phone, an' check his e-mail for a hit.
Read entire poem HERE.
Lastly, to hear Cowboy Cell Phone Fantasy, fast forward to about the 1:45 mark: