Posted on
Mar 22, 2012
in
Blog
|
0 comments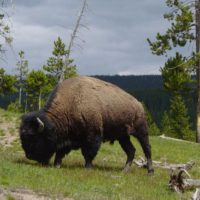 Two American Indian tribes, the Assiniboine and Sioux, prepared to welcome sixty-four genetically pure bison onto tribal land this past Monday. The tribes are familiar with bison care, having raised commercial herds in another area. Done quietly to prevent their journey from being stopped out of Yellowstone National Park, these particular bison will remain segregated in an attempt to repopulate the western frontier where they used to roam freely before being hunted out of existence.
From Foxnews:
Billings, Montana –

Several prior attempts to relocate the animals failed because of opposition  from cattle producers and difficulty finding public or tribal land suitable for the bison.

State wildlife officials have said the relocation may help answer the  question of whether the species can be reintroduced to some public lands in  Montana where they once roamed freely. Overhunting in the 19th century wiped out vast herds of millions of bison that once roamed across most of North  America.

Montana Gov. Brian Schweitzer said Monday that the relocation of bison to Fort Peck was a first step in efforts to bring the animals back across a larger landscape.

…

The animals have been confined to quarantine for several years. They were  captured leaving the park during their winter migration and tested extensively  to make sure they were free of brucellosis. That disease, which can cause  pregnant animals to abort their young, was for many years the primary argument for preventing Yellowstone bison from roaming freely outside the park.

But critics of the relocation have lingering worries about bison competing with cattle for rangeland.
Read entire Foxnews article HERE.