Posted on
Mar 20, 2012
in
Blog
|
0 comments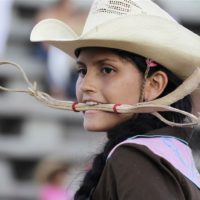 Villavicencio, Colombia hosted the 6th Cowgirl World Championship this past week. One of their country's own, Maura Braidy Reyes, came in first in a field that included competitors from the United States, Mexico, Cuba, Brazil, Costa Rica, Panama, and Venezuela.
Partial video transcript: Women from nine countries including the United States put on a great show, and demonstrated some serious skill in a sport that is largely dominated by men.The new champion crowned was Maura Braidy from Columbia. From bull roping, barrel jumping, bareback riding and horse races these extraordinary women defied the western cowboy stereotype and showed the world what a real cowgirl can do.
Additional footage from Yahoo HERE.
Additional photos from MSNBC HERE.
Congratulations to all the competitors! We think Annie Oakley would have been proud.