Posted on
Mar 19, 2012
in
Uncategorized
|
0 comments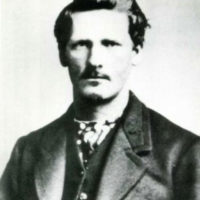 No matter where you stand on Wyatt Earp – whether you think he was a good guy, bad guy, or somewhere in between, the fact stands that he made an indelible mark on Western lore and history.
From Biography.com:
Wyatt Earp (born March 19, 1848, Monmouth, Ill., U.S.—died Jan. 13, 1929, Los Angeles, Calif.) moved out west with his family at an early age. He worked on the Union Pacific railroad for a time, but mostly found jobs as a lawman. In 1878, he arrived in Tombstone, AZ, where he joined other members of the Earp clan.

[Earp was a] legendary frontiersman of the American West, who was an itinerant saloonkeeper, gambler, lawman, gunslinger, and confidence man.
Read more at Biography.com or watch their 43 minute video about Wyatt and his brothers at the link below:
A Biography episode on the life of the Earp Brothers, focusing on Wyatt Earp's showdown at the OK Corral.
Whether Wyatt Earp and his five brothers were law breaking badge holders or tamers of wild boomtowns of the West, this family left behind more than blood at the OK Corral. Follow their controversial trail from their midwestern roots during the Civil War to Kansas cowtowns like Dodge City, to the mining towns of Leadville and Tombstone, to the golden land of California at the turn of the century. The story of the Wild West is not complete without the story of Virgil, Morgan, James, Newton, Warren and Wyatt Earp.
Or…buy and watch instantly, the film Wyatt Earp, starring Kevin Costner, Dennis Quaid, and Gene Hackman, released in 1994. Preview below:
Happy birthday, Marshal!