Posted on
Mar 18, 2012
in
Blog
|
0 comments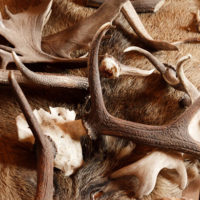 This time of year hunters of all ages head out into the woods on a search for shed antlers. Some of us here at AO gave it our best shot today, and while we came home antler-less, we did find these:
C'mon, you know that's cool. It's four different kinds of Mason jars! We didn't know there were so many. Should we mention these were laying near several liquor bottles? Hmmm.
Anyway, if we had found what we were looking for, we might have been able to add to an antler collection. Some people have quite the extreme collection. Check out the 20ft tower of caribou and moose antlers belonging to Chuck Heath (Gov. Sarah Palin's father). He has a dog that sniffs them out!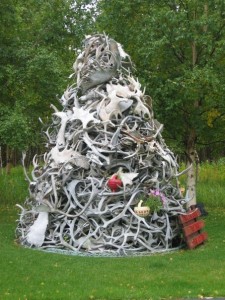 Shed antlers are great for decorations, chandeliers, furniture, and of course, mantle bragging. But the adventure of just being outside and looking is the best reason to join in the hunt.
Chef Georgia Pellegrini shared her thoughts and tips on hunting shed antlers in a post this past week:
I love shed antlers — meaning, the antlers that the male deer "sheds" at the end of every mating season, late Winter and early Spring. Every deer sheds its antlers and grows back larger ones the following season.

What is wonderful about hunting for shed antlers is that, aside from the possibility of finding these beautiful specimens of nature, it encourages you to get outdoors and hike. It's a fun activity to do with a friend, like a treasure hunt of sorts, and if you don't find any it at least encourages you to participate in nature, take note of its rhythms, and just be a part of where we've come from.
Below is a good video with tips on hunting shed antlers and then one on training your dog to sniff them out. Let us know if you find some antlers in your neck of the woods. Happy hunting with the family! Remember, fun licenses are required for all members.