Posted on
Mar 16, 2012
in
Uncategorized
|
0 comments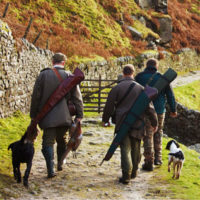 A conservation group based in Arizona says lead pellets used by hunters are causing poisoning in the food chain and drinking water. Hunters are firing back, saying this is really about gun regulation. What does the EPA say? This isn't our fight.
From Foxnews:
The Center for Biological Diversity, which claims 220,000 members, has sent a  petition to the Environmental Protection Agency on behalf of nearly 100 groups in 35 states asking the agency to regulate lead right out of ammunition. It's the second time the group  has attempted to get the EPA to take up the cause, and the group is currently suing the federal agency for rejecting the previous bid.

Hunting groups scoff at the Center's claims that  lead left in the carcasses of animals they shoot but don't collect harms the  food chain and that spent casings can contaminate groundwater. They say the  group has long sought to curb their rights to hunt and own firearms.

"They are like a woodpecker without any wood. They  just keep pecking away," Lawrence Keane of the National Shooting Sports Foundation told FoxNews.com. "It's clear that their motivation is to end hunting in the United  States."

…

Officials at the Center for Biological Diversity, a  501(c)3 organization that took in just under $8 million in 2010, declined to  comment to FoxNews.com. But earlier this week, spokesman Jeff Miller released a  statement outlining the group's case.

"The unnecessary poisoning of eagles, condors and  other wildlife is a national tragedy that the EPA can easily put an end to,"  Miller said. "There are safe, available alternatives to lead ammo for all  hunting and shooting sports, so there's no reason for this poisoning to go  on.

…

"There's no sound science that show lead ammunition  having an impact on wildlife population," said Keane, adding that the  firearms industry pays a federal excise tax of 11 percent on ammunition, which  goes to wildlife conservation programs.

Last month, Rep.Jeff Miller (R-Fla.) has recently  authored a bill called the Sportsmen's Heritage Act of 2012 which places  protections on hunting, fishing and shooting. The bill would clarify that  materials commonly used in hunting and fishing fall outside the scope of the  EPA's enforcement of the Toxic Substances Control Act.