Posted on
Mar 16, 2012
in
Uncategorized
|
0 comments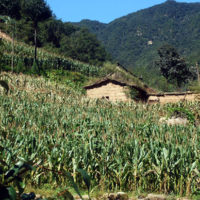 In a press release yesterday, Archer Daniels Midland Company and China Agricultural University announced their partnership in a "…research program to confirm that a portion of the corn in cattle rations may be effectively replaced with a mix of corn processing co-products and corn stover — the stalks, cobs and leaves left on farmers' fields after the harvest."
According to the release, "A growing and increasingly prosperous Chinese population is eating diets higher in animal protein, and driving higher demand for grain in the country."
ADM has been conducting trials like this in the U.S. already.
From Wall Street Journal:
China's livestock currently consume about 112 million metric tons of corn per year. Cattle producers may be able to reduce their animals' consumption by more than half by using a mix of corn processing co-products and corn stover.

In more than 20 cattle-feeding trials, which ADM has conducted in partnership with three leading U.S. agricultural research universities, researchers have been able to replace more than 60 percent of the grain in ruminants' diets with a mixture of stover treated with hydrated lime — a common food ingredient — and high-protein distillers' grains without negatively impacting the animals' growth and development.

Because China is the world's second-largest corn consumer, the implications could be significant both for China's dairy farmers — who may be able to sharply reduce the cost of feed in their operations — and for the country's food security. Feeding cattle a mix of crop residues and co-products can free up a substantial amount of grain for other uses.

ADM will fund the two-year research program, and ADM researchers will work with Dr. Shengli Li, a world-renowned professor of dairy science at CAU, to conduct a series of feeding trials at CAU as well as cooperative trials with large dairy farms in China.