Posted on
Mar 15, 2012
in
Blog
|
0 comments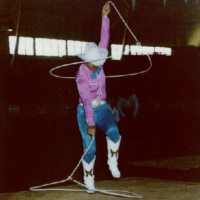 National Cowgirl Hall of Famer Joan Wells is still roping her way into people's hearts. Starting at 4 yrs old with a clothesline, she's spent a lifetime entertaining audiences of all ages everywhere. Her most recent performance was yesterday at the Nebraska East Campus Union to perform for Women's Week 2012.
From Daily Nebraskan:
She started taking lessons with world-champion trick roper Jim Eskew Jr. From there, she performed in numerous county fairs and rodeos around the United States.

In 1979 she competed in the Will Rogers Centennial Trick Roping Contest in Claremore, Okla. The only event they offered for women was freelance roping, so Wells entered herself in men's events and won. She also claimed the title Women's World Champion Trick Roper. Her 187 consecutive skips through a vertically spinning loop during the competition also landed her a spot in the Guinness World Records book.

Ten years later, she was inducted into the National Cowgirl Hall of Fame in Fort Worth, Texas. Wells said when she thinks back to trick roping as a 4-year-old, it's overwhelming to think how far she's come. She said she would have never expected to achieve what she has.

…

All these accomplishments came with hard work, Wells said. And it wasn't easy. But, she said she encourages women in non-traditional roles to push for success. As for words of advice, Wells said, "Don't ever let anyone tell you (that) you can't do something."
You can read more about Joan Wells at her site, click HERE.
Great video – don't miss the tricks on horseback near the end: