Posted on
Mar 14, 2012
in
Uncategorized
|
0 comments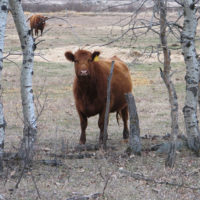 In 1988, the European Union banned imports of beef from cattle treated with growth hormones, as they believed studies showed the hormones to be harmful. In return, the United States and Canada imposed sanctions of $124 million a year on luxury European food products.
After negotiations in 2009, Reuters reports that, "…the 27-member bloc would keep its ban on hormone-treated beef but that the U.S. would gradually lift its sanctions in exchange for a steep rise in the EU's duty-free import quotas of hormone-free beef. The volumes of hormone-free beef exempted from taxes were put at 20,000 tonnes that year and are due to be lifted to 48,200 tonnes by August 2012, of which 45,000 tonnes for U.S. beef and 3,200 tonnes for Canadian imports."
Last May, sanctions on the European products ended, and a vote Wednesday upheld the EU's end of the bargain.
Obviously, big numbers of tax-exempt imports of U.S. beef throughout Europe is appealing to U.S. ranchers. But will the new lifted volumes benefit them, or will the continued infuence of biofuels keep the celebrating down?
From Reuters:
Although EU farmers had feared a surge in imports of North American beef, these failed to materialise as the United States became a net importer of beef after grain that formerly went to animal feed was used to make biofuels.
Answers aren't so easy to come by. Last October, Kris Ringwall, a Beef Specialist with NDSU wrote:
Does the renewable fuel standard impact beef cattle systems? Should a producer begin the tedious process of evaluating alternative systems, such as smaller cows and later calving, to allow for the increased cost of energy going into the producer's current system? Will biofuel policy change again and make it more difficult to know the impact of our nonagricultural demand for energy versus agricultural produce utilization in food systems, particularly beef cattle systems? What is the take-home message of these words?

Models, when correctly utilized, do work. Utilized correctly means that adequate data points are available to offer reasonable solutions to the questions asked. Unfortunately, data points can be subjected to assumptions that then are projected into the model.

…

Cattle production has remained a business based on common sense. Inputs and outputs often are determined through daily evaluation. Feed contracts may be short or long term and errors in judgment buffered against slim or plentiful days. Sounds rather abstract, but reading long reports based on assumptions and limited data are no different.

However, in the end, common sense needs to prevail. As the truck drives past the ranch turnoff and the hay yard looks a little bare, one cannot help but wonder just who needs the biofuel. Is it the hungry cows or the hungry cars?

Hungry cows won't last long without fuel. The hungry cars can be parked until fuel arrives. As producers struggle to find and evaluate relevant beef cattle systems that work in today's world, the search for energy sources is real. However, just rolling the dice makes poor sense.