Posted on
Mar 13, 2012
in
Uncategorized
|
0 comments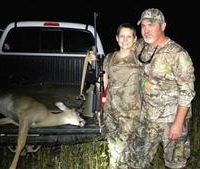 If Georgia Governor Nathan Deal signs "Taylor's Law" into action, terminally ill patients could enjoy a hunting and fishing season more in tune with their day to day struggles. Inspired by teenager Taylor Gramling, the bill has passed through both houses of the state legislature.
From 11alive.com:
The idea for the law came after Leukemia patient Taylor Gramling told her family she wanted to go deer hunting. She only had a few weeks to live, and rifle season was not yet open. Her family tried to get help from the state, but no framework existed to provide her a legal exception.

She was able to go on a trip after Jeff Foxworthy allowed the use of his private farm. Hunting is legal year-round on private farm property. In her second attempt, Taylor downed a deer. She was gone just over a month later, and her family now cherishes the video that shows her laughing and cheering.
(If you have trouble with the video sound, try rewinding and play again.)