Posted on
Mar 12, 2012
in
Blog
|
0 comments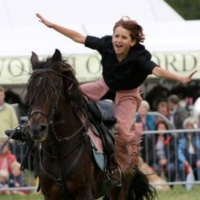 Riding since she was only days old, Skye Woodward is now ten and performing stunts on horseback most wouldn't dare try. Meet the pint-sized UK sensation who we think has a lot in common with Annie Oakley.
From The Sun:
At just ten, the daredevil schoolgirl is already a professional stunt expert,  who performs death-defying horseback acts at shows across the nation.

She has also toured Europe with her stunt team and worked on two major movies,  including Season of the Witch with Nicolas Cage.

Skye, 4ft 6in, was first taken on a horse at three days old by mum Amy, 33, of  Hitchin, Herts.
From Blazing Saddles Stunt Team:
Skye continues to work with her ponies and joins the Trick Riding Clinics at every opportunity. At just 10 years old, it is Skye's ambition to train hard in six disciplines to eventually enable her to join the Stunt Register.

…

Skye currently has weekly lessons in Trampolining, Gymnastics, Swimming  and Martial Arts as well as training in her equestrian disciplines to help her achieve her goal.

Skye is also an active member of Pony Club and attended her first residential Camp

last year.