Posted on
Mar 12, 2012
in
Blog
|
0 comments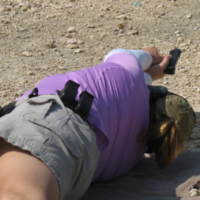 A Girl & A Gun Womens Shooting League is gaining popularity in Texas and coming soon to Virginia and Colorado.
One of the members says in a Foxnews interview, "Friends are meeting friends, people are meeting people…they're bonding. They're bonding over guns. They're talking about the equipment that they buy, much like they'd be talking about clothes, shoes, or handbags."
From their site:
A Girl and A Gun Women's Shooting League is a Ladies Only Organization established by women shooters for women shooters for pistol, rifle and shotgun sports!   The league is designed to take beginners to whatever skill level they wish to achieve, and provide experienced shooters with more opportunities.  The objective of some is to improve their skill levels for target and/or competitive shooting.  Others, while wanting to improve their skills, also are interested in the aspects of self-defense.