Posted on
Mar 11, 2012
in
Blog
|
0 comments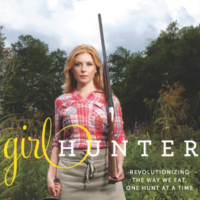 This woman's blog site is reminiscent of the old Foxfire magazines started by a high school class in the sixties. The students' work of going into the mountains and recording just about anything you can imagine that was done by the rugged Southern Appalachian community was monumental for the sake of history and education. (You can get books of the compiled magazines and learn more about Foxfire by clicking HERE.)
From GeorgiaPellegrini.com:
I hunt and gather myself, and hone my pioneer skills. I seek ingredients that are anchored to the seasons and a definite place. It is the kind of food once served in simple restaurants and in homes by housewives, now, by grandmothers, by families for generations, and today by people – culinary artisans – choosing to do the hard work required to live off the best their hands can produce.
In an opinion piece at Foxnews.com, Georgia explains further:
Hunting is for all of us, an extension of our being both humans and animals—our first work and craft, one of our original instincts.

Today I am entirely different than the girl and chef who set out four years ago to learn how to hunt a turkey.

There are the obvious differences, such as the fact that I can shoot a deer through the heart without batting an eye, and then promptly take out the innards on the forest floor with only a pocketknife and my bare hands.

I can skin it and then run the knife along the contours of the muscle until it is broken down into manageable parts.

Then, if I want to, I can portion the meat into those elegant pieces we see neatly wrapped up in plastic in the grocery store  meat section, with no signs that it was ever a living thing. Except that for me,  I will always know.

I will have looked my food in the eye and made a choice.

…

Your first instinct may be to say "I don't think I could do it." The good news is that you don't have to.

But if you want to feel what it is like to be human again, you should hunt, even if just once. Because that understanding, I believe, will propel a shift in how we view and interact with this world that we eat in. And the kind of food we demand, as omnivores, will never be the same.
To purchase a copy of her new book Girl Hunter (trailer below) and read up on her latest posts, visit Georgia's site by clicking HERE.