Posted on
Mar 8, 2012
in
Blog
|
0 comments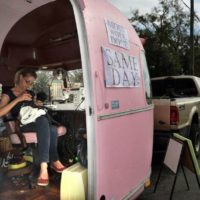 The Pink Cowgirl may not wrangle cows, but any woman who escapes domestic abuse, drives a truck, and works out of a trailer to support her family qualifies as a real cowgirl in our books.
Jacksonville, FL – Driving around Riverside and Avondale lately, it's hard to miss the bright  pink vintage trailer. That's kind of the point for Emilee Hester, who got a  business license and began her mobile sewing business, the Pink Cowgirl, in the  trailer a few weeks ago. It's a good fit so far: She already owned the trailer  and needed to be mobile enough to get her children to school while still  working.
She said she checks with nearby businesses to make sure she's not infringing  on anyone, then looks for a parking space big enough for her big truck and her  extremely pink trailer.
…
Why the Pink Cowgirl?
"I've never been a cowgirl, but I am from Nashville [she has a strong Tennessee  twang]. People think I might have been a cowgirl. … It's snowballed. People call  me up all the time and say I need to speak to the Pink Cowgirl. I didn't think I  was creating this whole persona."
How did this come about?
"I was on a real isolated farm in Kentucky. I started this as a desperate attempt  to escape domestic violence. I started working on this on the farm; I could pick  it up and move. … I knew I could make the leap. I could move, make it on my own."
Did you have any formal training in sewing?
"No schooling. But I've been sewing since I was 8. Then I saved baby-sitting  money, bought a sewing machine at a pawn shop in high school. We were poor, so I  could add designer things to my clothes, put on designer tags on regular  clothes. Now I do all kinds of things."