Posted on
Mar 7, 2012
in
Blog
|
0 comments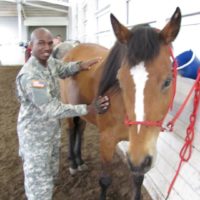 Via Military.com:
Yelm, Washington – A white Frederiksborg gelding, Fred is one of the horses in Debbi Fisher's Rainier Therapeutic Riding program in Yelm, where servicemen are matched with horses they learn to groom and eventually ride.
…
Horses are ideal partners for traumatized service members because "they're kindred spirits," Fisher said, and have similar fight-or-flight reactions to perceived threats.
Training a horse not to jump away at a blowing piece of paper, for example, becomes a model for the soldier's own life. Fisher takes 75 soldiers a year — both active-duty and veterans — without cost to them or the government.
…
Seeking a purpose, she knew there was a need for helping soldiers with physical and emotional difficulties, and had heard of the Horses for Heroes program. The idea of starting a program took off after she married Bob Woelk, who became the co-founder.
The program was just what [Staff Sgt. Aaron] Heliker needed. Nothing else had worked, he said, not treatment at Walter Reed National Military Medical Center outside Washington, D.C., not therapy at a clinic in Texas, not the lockdown PTSD treatment facility in Oregon — not even his beloved service dog, Chopper, his companion to help with anxiety.
Fred's ability to mirror Heliker's own emotional state, requiring him to calm himself in order to do as little as brush Fred, has made it possible for Heliker to get used to staying in control.
Not long after meeting Fred last June, Heliker canceled his plans to die, and over the course of nine months went from taking 42 pills a day to four.
…
"Through this equine-therapy program, I've seen soldiers building relationships, confidence and their self-esteem," said Phyllis Lang, an occupational therapist with the Warrior Transition Battalion.
Fisher donates the use of her eight horses and operates in donated arenas. She says the program costs $700 per rider, which she raises through donations.
__________
To contact Ranier Therapeutic Riding, click HERE.
__________
Sgt. Lester Perez, who had both of his legs broken last February in an IED attack in Afghanistan, shares his thoughts on the value of Rainier Therapeutic Riding, a program for wounded soldiers.