Posted on
Mar 6, 2012
in
Uncategorized
|
0 comments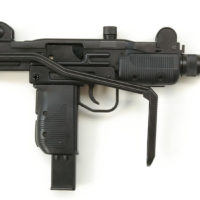 Via The Sacramento Bee:
Machine Guns Vegas…opened last week a half mile from the Strip with an armory of weapons and a promise to fulfill the desires of anyone wanting to fire off an Uzi or a vintage Thompson submachine gun.
…
"We want it to have a Melrose boutique feel to it," said Genghis Cohen, referring to the upscale stretch of quirky shops along Melrose Avenue in Los Angeles. Cohen, a nightclub impresario, is a managing partner of Machine Guns Vegas. "It would be like a boutique-style of guns," he said as he led a tour of his latest venture. "We will have artwork on the walls."
"This is our VIP area," he said. "Look – a cappuccino machine, nice big leather couches. Let's say you're the vice president of the Palazzo or the Wynn," he continued, referring to two of the city's fanciest resorts. "You're like, 'Oh, it's lunch break. I'm going to grab a sandwich and go shoot my gun for half an hour.' "
There is not much to eat, though the club plans to sell prepackaged food eventually. But you can spend a lot of money at a club that – and thank goodness for this – does not serve alcohol. (Not that you need to be Lewis and Clark, exactly, to find yourself a drink in Las Vegas.) For $699, the top-of-the-line package, a client gets an array of 16 firearms, 1,550 rounds of ammunition and a pass to the VIP lounge.
…
Cohen, the managing partner, emphasized that all the range masters are military veterans, with experience in weapons. "We have girls who work for us who are veterans, and have very successful modeling careers," he said. "But they are also ex-veterans."