Posted on
Mar 5, 2012
in
Uncategorized
|
0 comments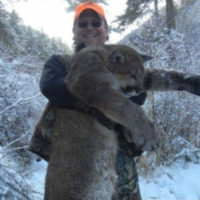 A California wildlife official is receiving resignation pressure for participating in a legal hunt in Idaho.
Fish and Game Commission President Daniel Richards shot and ate a mountain lion he killed during a big game hunt in Idaho. Now, California conservationists that work to keep mountain lions and their habitats protected in their state are calling for him to be fired, citing he is no longer fit for his role. His supporters say there should be no comparing what is legal in Idaho, a state that is not involved with California's conservation efforts. Excerpts and video below.
Via Daily Mail:
A photo of California's Fish and Game Commission President Daniel Richards posed holding the dead cat shocked many in his home state but Mr Richards claiming to have eaten the cat as well, threw many more over the edge.
…
Hunting mountain lions in the state of California has been banned for the last two decades while in other states, like Idaho, it's legal.
…
Some in California now question whether Mr Richards is best to serve on the state's commission with the photo adding to a reputation accused by some as being trigger happy and long opposed to certain marine wildlife protection rules and policies to increase nontoxic ammunition.
…
Mr Richards, who is a lifetime member of the National Rifle Association, assumed the presidency of the Fish and Game Commission in 2008. His term ends next year.
Within the legislation that banned the animal's hunting in the state, it also set aside $30 million of state funding until 2020 to buy up habitat to protect mountain lions and other species.
The non-profit Mountain Lion Foundation, which fought for the law to be passed, has also called for Mr Richards to give up his role.
'While technically no laws were broken, California residents are disgusted and calling for Richards' immediate removal from the Commission,' the MLF stated on their website.
Via Daily Democrat:
It's the latest example of a cultural shift afoot in America's most populous state — a profound change involving urban and rural, old and young, red and blue — in which the traditional political power of hunters and fishermen is in steady decline while environmentalists and animal rights groups have grown in influence.
Since 1970, the number of people with hunting licenses in California has fallen 61 percent, to just 268,000 last year, even as the state population has doubled.
Meanwhile, over the last 20 years, environmentalists and animal welfare groups have banned mountain lion hunting, outlawed steel leghold traps, established the nation's largest network of "no fishing zones" off the coast, and defeated plans to expand black bear hunting — all over the objections of hunting and fishing groups who once dominated state wildlife policy.
…
"People who have no background whatsoever in wildlife jump on the huggy, cute, Bambi concept of it," said Bill Karr, Northern California editor for Western Outdoor News, the state's leading hunting and fishing newspaper.
"They think hunting is a blood sport. We have gotten away from the necessity of hunting for food, and people have distanced themselves from how food gets to the supermarket. When it comes to wildlife, people are really distanced from reality."
…
Hunters and fishermen need to do a better job explaining to urban residents their history of conservation — from Teddy Roosevelt to groups like Ducks Unlimited, which spend millions preserving wetlands, said Mike Chrisman, a longtime hunter, farmer and California's natural resources secretary under Gov. Arnold Schwarzenegger.
"There's more in agreement between the classic hunters and fishermen and the environmental groups than people realize," he said. "They disagree fundamentally on some issues, but they agree on the need to preserve and protect species and habitat."
Via Foxnews:
Defiantly defending himself, Richards has rebuffed calls to step down and has  pointed out that he not only killed the cougar in Idaho, where that's legal, he  ate what he shot, as good hunters do.
…
He defended his hunt in a letter to a lawmaker who  had demanded his resignation.
"While I respect our Fish and Game rules and  regulations, my 100-percent legal activity out of California, or anyone else's  for that matter, is none of your business," Richards wrote.
…
"Mr. Richards has not broken one law," said state Sen. Tom Harman, R-Huntington  Beach, in a statement. "In the state of Idaho, it is perfectly legal to take  down a mountain lion. After all, there are lots of states that don't follow  California's lead on every issue."