Posted on
Mar 5, 2012
in
Blog
|
0 comments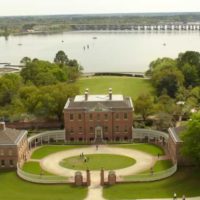 Via Tryon Palace:
New Bern, NC – For nearly six hours on March 14, 1862, 11,000 Union forces and 4,500 inexperienced and ill-equipped Confederate troops battled for control of New Bern — a battle that drew the line in North Carolina and changed New Bern forever.
Help commemorate the 150th anniversary of the Battle of New Bern and relive these times of change during a special series of activities, beginning March 9 with the Sesquicentennial Symposium, followed by the Civil War Weekend at Tryon Palace on March 10 and 11, with themed tours of the Union occupation by costumed interpreters in historic homes, a Union encampment and special Civil War exhibit, crafts from the past and much more.
For a full listing of Civil War events at Tryon Palace and New Bern, visit the website or call (800) 767-1560 or (252) 639-3500.
To register for the Symposium and evening reception, call the New Bern Historical Society at (252) 638-8558 or visit website.