Posted on
Mar 3, 2012
in
Blog
|
0 comments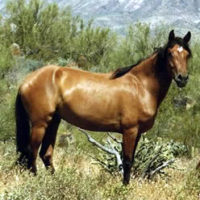 Via trib.com:
Rawlins, Wyoming – [Encampment native Solomon] Griffith recently picked up a pair of horses that he'll have until June to  teach and train for the Mustang Makeover, a competition between 38 horsemen to  prepare feral horses for adoption.
The event culminates June 9 in Fort Collins, Colo., when horses are judged  based on body condition and myriad newly learned skills.
…
Among the most influential figures responsible for Griffith's articulate  knowledge of horses and their education is Joe Middleton.
Middleton first met Griffith last summer, when they both worked on the same  ranch in Encampment. Griffith knew his way around horses from a rodeo resume that spanned almost a decade, but that was it.
…
The 75-year-old was there for training's traditional days, when the horses  were mean and the trainers were meaner.
"The whole approach was different back then," Middleton said.
The herds that roamed western Wyoming were inbred and aggressive — Middleton  called them "jugheads" — not like today's well-maintained, well-mannered  bloodlines.
The common approach was to "break" the horse, more or less punishing the  animal into submission.
"It really, in a sense, broke the horse's spirit," Griffith said. "The horse  didn't enjoy what it was doing, it just knew that if it didn't do it right, it  was going to get spurred, whipped and everything else."
Sometime around World War II, a new method of training — what would  eventually be known as modern natural horsemanship — was making its way down  from the Pacific Northwest.
The trend was credited to a pair of brothers, Tom and Bill Dorrance, and was  championed most in Middleton's day by a man named Ray Hunt.
The updated approach resulted in the horse naturally performing a desired  action instead of having it beaten in. The relationship was much more  student-teacher than master-beast.
It would be the method Griffith learned, thanks mostly to Middleton.